---
Founded in May of 1971 by Hy Levy and Pat Lafollette, FAMILY SYNERGY grew from a small core of people interested in discussing group marriage to a more diverse organization serving an educational and public relations function as well as that of a supportive community. It is a non-profit, volunteer-run organization based on the premise that people can live fuller, more rewarding lives and realize more of their potential by participating in non-possessive interpersonal relationships.
Our objectives are to facilitate discussion and the exchange of ideas, the collection and dissemination of information about the expanded family in all its forms as well as on open relationships and group living. We also wish to provide ways for people interested in furthering, researching, or participating in these alternative lifestyles to meet, to get to know, and to keep in touch with one another.
FAMILY SYNERGY itself is not a commune or an expanded family, but a group of families and individuals (many of whom live in expanded families or open relationships, and many of whom do not). Our membership includes many persons who are in conventional, nuclear, or monogamous families or couples, and singles. All that is required of people to join is an interest in what we are about and an acceptance of other's lifestyles. We are a facilitative medium for people interested in personal growth -- particularly in the area of caring for more than one other adult.
Being a volunteer-run organization, FAMILY SYNERGY is, and will become, whatever the membership needs and gives. As the membership changes, so do our human resources. The FAMILY SYNERGY organization is only the framework that allows its members to explore and experience the many variations of alternative family styles.
We are not a swing club. Some of our members are "evolved swingers" attracted to FAMILY SYNERGY because of its focus on deeper relationships. We believe that sex is good, is an expression of love, and that people should (as long as their partner(s) agrees) have the right to explore extra-relationship sex or multiple sexual contacts. However, we also believe that sex offers the most fulfillment when used as an expression of caring and that no one need ever feel obligated to indulge in it. We as fervently believe in the right of people to say "NO" to a sexual encounter as we support their right to ask for what they want.
We want to provide a warm group setting, a non-threatening social atmosphere, and a loving support group that accepts individuals as they are; we believe in relating to one another honestly without hidden agendas. We hope to help those who are new to alternative lifestyles deal with relationship problems in constructive ways.
---
MEMBERSHIP
Annual membership dues are $30 for an individual and $40 for a family of two. Additional family member fees are $10 for each member. To qualify for family membership, people must be over 18, live in one residence, and consider themselves to be a family. The membership directory, which FAMILY SYNERGY publishes once a year, includes the names, addresses, phone numbers and Email address' of all members who give permission to be included, as well as indicating which homes are "Guests OK" (available for overnight accommodations). Only those persons listed in the membership directory will receive a copy.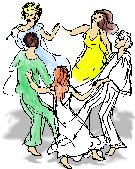 Memberships include a monthly newsletter, which lists events for the month. Articles deemed of interest to members, and correspondence from and about members, are also included. Those living too far away to participate in activities can subscribe to the newsletter without becoming full members.
In addition to several events each month, FAMILY SYNERGY sponsors a Conference during a weekend each summer in Palm Springs. It is a wonderful opportunity to meet new friends, renew previous relationships, and share the camaraderie of like-minded people in a clothing-optional atmosphere.
Most FAMILY SYNERGY members are intelligent, mature, easygoing, open, friendly, and much given to the physical expression of affection. We encourage regular hugs!
---
EVENTS & WORKSHOPS
Educational and cooperative events consist of general meetings, which often include a speaker on a subject of interest to members, and seminars which address some of the questions and potential problems that may be encountered in embarking on or in maintaining an alternative lifestyle. Social activities are often potluck events, often centered around holidays, or dining out. Many events in private homes are clothing-optional; some of these may include the semi-private expression of sexuality by some individuals. Monthly activities are usually low cost.
---