Conference '98
---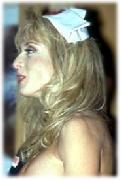 The Family Synergy conference this year will center around the Nina Hartley triad which is made up of Nina, her husband and Bobby Lilly. Bobby Lilly has headed Califorians Against Censorship Together (CAL-ACT) for 10 years and is currently Director Emeritus of N-ACT (National Act Against Censorship). Bobby will be a workshop leader and if Nina is not filming, she too will join us.

This year's Conference will be held at Santiago Resort, a first class clothing optional resort, located in a quiet area of Palm Springs. Santiago will accommodate fifty participants and Chestnutz across the street can house twenty. The $175/per person (dble. occ.) registration includes room, workshops and catered meals.

Dates: June 5-7, 1998

Those of you who attended last year know what a great time we had, and those who will be there for the first time are in for a treat.

See your Newsletter for a Reservation Form

All attendee must be members of Family Synergy. Why don't you join us this year? Contact us about joining Family Synergy to receive our newsletter about our monthy events and this year's conference!
---